A Mama's Guide to Making Friends
Maybe you've seen her at the park a couple times? Perhaps at the grocery store too?
You've exchanged friendly glances and smiles.
You watch the way she interacts with her kids in a playful, affectionate, cool-ish mom way.
Her kids appear fun to be around. You think about how well your own kids would play and laugh with hers.
Next, you catch yourself daydreaming about what a friendship with her would look like. You imagine her texting you to meet for a playdate at the park, or a fun outing to the zoo. Or, maybe you even fantasize about going out together without the kids in tow (you know, a mom date!).
In your mind you've already established a friendship and have daydreamed of all the wonderfully exciting adventures you and your new mom friend will go on…but then you return to reality and remember that 1) you don't even know your mom friend's name, 2) she doesn't have your phone number to text you for playdates, and 3) you have no clue about the first step in asking your mom crush out (YES, I did just say mom crush!).
Make New Friends…But Keep the Old
I cannot tell you how many times the topic of how to make friends has come up in my conversations with other women – with both clients and loved ones.
As we're beyond middle school and college, we no longer have the convenience of making an instant friend connection with a locker neighbor or dorm roommate. And while some of you still have those childhood friendships, many of those friends have relocated across the country (or you have). Or, your relationships with those friends have evolved, and you're just not as emotionally close as you once were. So, that leaves many women with a friend-deficiency.
I've discovered too in my conversations with women that, regardless of our age, we always crave a good friend. Those deep soulmate and wholeheartedly connected ones. Brené Brown, researcher and storyteller, calls these "move-a-body" friends. That friend who shows up on your doorstep ready to support you with no questions and no judgment, and ready to help you physically move your alcoholic mom who is passed out on your couch (for the full story, I highly recommend reading The Gifts of Imperfection).
A New Friendship Awaits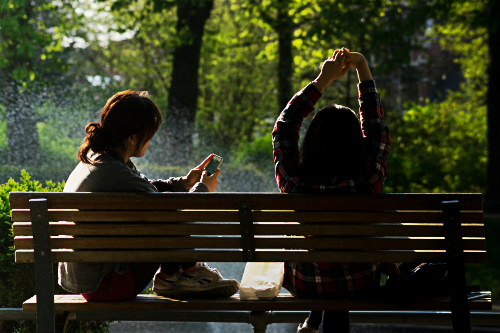 So, how do you go about finding a move-a-body friend, much less a good friend to connect with for playdates and mom dates?
Sadly, there is no mom friend website filled with potential girlfriends waiting for you to find them, so you must wholeheartedly take the task on yourself. And you will have to bravely put yourself out there (aka, take the vulnerability plunge), which can be scary. But, by starting small and treating friendship-making as a sacred courtship, you're bound to find the gift of a good friend – and quite possible find your very own move-a-body friend in the process.
If you're hard up in knowing where to look for a friend, you may have to go the extra mile and join a social group or special interest club (including but not limited to yoga classes, mom groups, and running/exercise clubs for moms).
Some of you already have a pool of potential mom girlfriends waiting to be explored through your child's daycare, postpartum playgroup, school, or special activities. Or, perhaps you're like the mom in the intro and you've already developed a mom crush on a potential friend?
The Pickup Line
Once you've picked out a potential mom friend or 2, commit to striking up a conversation with her. This might be scary if you're new to making friends or initiating conversation, but I promise it's common and very acceptable. And, she will not think you're creepy!
When you see your mom crush in the grocery store, at the park, school, gym, etc., (first, make sure she's not in the middle of a kid tantrum crisis…and if so, please, please offer her an encouraging smile or kind words!), stop her and say:
"Hi! I've bumped into you a few times now with your kids (mention here how many children you have and their ages). What's your name?…My name is ________."
And there you have it, a simple intro for a conversation, and the door to friendship open. More than likely, a brief or extended conversation will take place.
It's okay to pick out a backup statement or question, if you run out of things to say too, such as, "Your kids are adorable! How old are they?" 
If you're at the park, comment on the gorgeous weather and say, "It's so pretty out today! We really needed to get out of the house for some fresh air!" 
Maybe ask, "How long have you been a member of this gym/attending this school?"

Now, if you feel comfortable enough during this one encounter, you can 1) ask her for her phone number, 2) mention that you'd love to connect for a playdate, or 3) do both. But, if you'd like to take things more slowly, it's okay to save these requests for next time.
However way you choose to approach your new mom friend, be sure to applaud yourself for taking a step towards friendship. And, it may take a few or several encounters of greetings, friendly smiles, and brief conversation before you're off on friendship adventures and playdates.
Keep in mind that we women are wired for social connection. It's in our DNA! Research has even shown that women tend-and-befriend in response to increased stress levels. So, just maybe that mom you're in search of befriending, and have daydreamed of countless friendship adventures, is actually longing for the same thing — a good friend!
Now mama, stop daydreaming and go make a new mom friend!
If you'd like additional support or confidence in cultivating friendships with women, contact me and let's connect. Cheers to you, and all the best for happy, healthy, and supportive friendships!